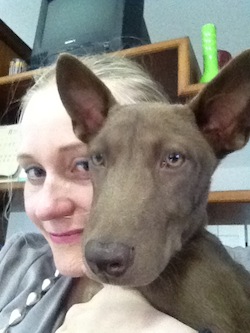 DALLAS, DECEMBER 18, 2012: A Thai puppy destined to become another victim of the illegal dog meat trade has become an international ambassador for suffering dogs worldwide thanks to the American Dog Rescue Foundation in Dallas working to enable a collective effort of animal advocacy groups in three cities across the globe. On December 20, Nam Mow, otherwise known as "Sea Lion" will begin his long journey from Bangkok, Thailand, to his forever home in Melbourne, Australia, via a six-month stay in an EARS (Education and Animal Rescue Society) foster home in Dallas, U.S.A. Sea Lion will arrive in Dallas, TX, in time for the holidays on December 21, 2012.
Sea Lion, named for the gait of his walk having been born in Thailand with deformities in his legs, was one of two surviving puppies to a mother who was stolen, crushed in a chicken crate with countless other dogs and suffered a severe lack of nutrition. Plucked from a certain death by the Thai rescue group Soi Dog Foundation, a mother of two in Australia, Ellie Harris, wanted to support the incredible work of the Soi Dogs and on visiting their Bangkok shelter had an instant connection with Sea Lion and vowed to take him home to Australia. In battling the Australian quarantine laws, Harris spent weeks contacting foster homes across the world to see if they would help her. Philanthropist and founder of American Dog Rescue, Arthur E. Benjamin, heard about her quest and immediately agreed to find Sea Lion a home in the United States. Partnering with EARS, Benjamin found a foster in Dallas willing to take Sea Lion for his six months of quarantine.
"The story of Sea Lion shows the great lengths to which people will go, to save the lives of animals," said Benjamin. "When animal welfare groups on three continents come together to rescue one animal it speaks volumes about the power of the international community working as one. Sea Lion is one of the lucky ones, but if his story can help raise awareness of the desperate need to cull the barbaric dog meat trade then there is no reason why countless other dogs can't be saved as well. I can't thank Soi Dogs and EARS enough for all they have done and will do to help reunite Sea Lion with Ellie Harris in his forever home."
Here is  a video with more on Sea Lion's story:
For information on Thailand's Soi Dogs Foundation and the Trade of Shame visit www.soidog.org. For information on the American Dog Rescue Foundation visit www.americandogrescue.org. For information on EARS visit www.earstexas.org.