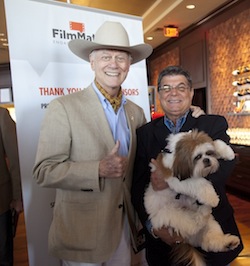 Though Larry Hagman was best known for portraying the ruthless J.R. Ewing on the TV show "Dallas," in real life he was anything but villainous. Sadly, the world lost this great man to a battle with cancer this Thanksgiving weekend.
Having had the pleasure to meet Larry at several Dallas-area charity events in recent years and to get to know him as a man, I can assure you he had a heart of gold and a giving spirit as big as Texas. As recently as last month, I joined Larry at the launch of his new Larry Hagman Foundation – a foundation that helps economically disadvantaged youth. Our foundation's donation that night was a highlight.
And again we joined forces just weeks ago at the "Film Matters" brunch as its sponsor with Larry speaking on a panel on the difference potable water makes internationally. Larry was a huge contributor to the "green movement" and harnessing solar energy.
Rest in peace Larry – may we all learn from and follow your admirable example in making a difference for others and the planet.