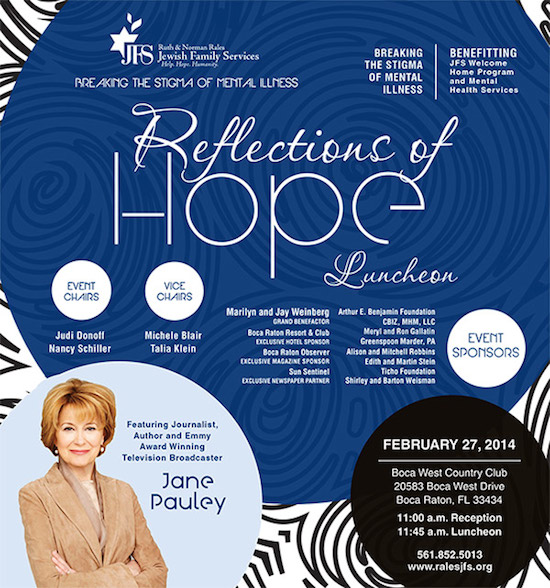 This past Thursday, the Arthur E. Benjamin Foundation served as a sponsor at the Ruth & Norma Rales Jewish Family Services Reflections of Hope Luncheon. JFS serves many different groups, but this event's theme focuses on the organization's mental health aspect with its theme of "Breaking the Stigma of Mental Illness."
The event kicked off with a reception at 11 am, featured NBC television journalist Jane Pauley as a speaker and took place at Boca West Country Club.
"I'm always happy to help great organizations like JFS," Arthur said. "Especially organizations that tackle such important issues like mental health and the many others JFS deals with."
Ruth Rales Jewish Family Service (JFS) offers help, hope and humanity through a comprehensive range of programs and services which support people of all ages and beliefs. With locations in Boca Raton and Delray Beach, JFS programs and services include food and financial assistance, senior services, counseling and mental health services and many volunteer opportunities. Funding is provided by private and corporate support, grants, special events and individuals who reach thousands in need each year. For more information, contact (561) 852-3333 or visit www.ruthralesjfs.org.
For more information on this event, please click here.