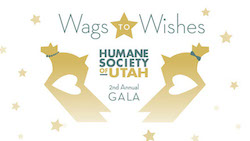 The Arthur E. Benjamin Foundation (AEBF) and American Dog Rescue (ADR), The Humane Society of the United States (HSUS) and Sundays Hunt are proud to present the second annual "Wags To Wishes" gala, featuring keynote speaker Jill Rappaport and benefitting the Humane Society of Utah (HSU), in Salt Lake City June 7.
Ms. Hunt has dedicated much of her life to animal rescue in Utah and beyond, and currently serves as the Utah State Director for HSUS. Ms. Rappaport is an NBC news reporter and Today Show correspondent, also well known for her work as an animal advocate. "Good Day Utah" personalities Kerri Cronk and Dan Evans will serve as MCs for the gala, which will be held at The Garden Place, 2601 E. Sunnyside Ave.
All proceeds of the event will directly benefit the animals HSU serves, including food, shelter, medication, vaccines, sterilization surgeries, humane education and investigations of animal cruelty and abuse.
"The Humane Society of Utah is a top-notch organization doing important animal rescue work every day," Arthur E. Benjamin, founder of AEBF and ADR, says. "I'm pleased to be joined by HSUS and Sundays Hunt in supporting this event that will raise critical funds to further their important mission."
For more information on this event, or to register to attend, please click here.