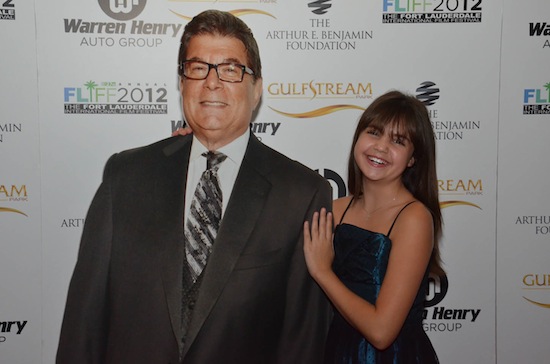 FORT LAUDERDALE, FL (October 22, 2012) – Actor James Caan and actress Bailee Madison were honored at the 27th Annual Fort Lauderdale International Film Festival (FLIFF) Opening Night VIP Celebration on October 19, 2012 at Sport of Kings located at The Village at Gulfstream Park in Hallandale Beach. The event was hosted by Warren Henry Auto Group and Arthur E. Benjamin together with Trinity Diversified Film Fund and Entre Nous.
Founded in 1986, FLIFF continues to introduce independent cinema to a South Florida audience base of more than four and a half million people. The FLIFF Opening Night VIP Celebration featured glamorous celebrity red carpet arrivals via Warren Henry Auto Group vehicles followed by an exclusive film montage preview. Guests enjoyed a film-themed evening in the company of some of Hollywood's brightest stars with signature cocktails from ZYR Vodka; hors d' oeuvres from Brio Tuscan Grill, III Forks, and Texas de Brazil; and an elaborate display of high-end vehicles from Warren Henry Auto Group, South Florida's premier luxury auto group.
Gregory von Hausch, President and CEO of the Fort Lauderdale International Film Festival, honored actor James Caan with a Lifetime Achievement Award and actress Bailee Madison with a Star on the Horizon Award for their exceptional accomplishments in the film industry.
Caan began getting parts in some of the leading television programs of the day and made his feature film debut in "Irma La Douce" and continued to star in "El Dorado," "Brian's Song," "The Godfather," "Funny Lady," "Rollerball," "The Gambler," "Thief," and "Honeymoon in Vegas." He also directed and starred in "Hide in Plain Sight," which received rave reviews. Additionally, he had a starring role in the hit television series "Las Vegas." Caan will soon star in "Blood Ties" directed by Guillaume Canet which is set for release in 2013.
At just 12 years of age, Madison is already one of the most proficient actresses in the business, effortlessly executing both dramatic and comedic roles. This talented young actress has worked with a number of the industry's biggest stars including "Don't Be Afraid of the Dark" with Katie Holmes and Guy Pearce, "Brothers" opposite Tobey Maguire, Natalie Portman and Jake Gyllenhaal, "Conviction" with Hilary Swank and Minnie Driver, and "Just Go With It" with Adam Sandler and Jennifer Aniston. Bailee captured audience's hearts in Disney's "Bridge to Terabithia" and has left lasting impressions with her performances in the independent film "Phoebe in Wonderland" (starring Felicity Huffman and Elle Fanning) and on television in NBC's "Law & Order: SVU." She also appeared in Disney Channel's "Wizards of Waverly Place" for its fourth and final season.
For more information on FLIFF's Opening Night VIP Celebration, please visit www.fliff.com.
About The Fort Lauderdale International Film Festival (FLIFF)
FLIFF reels out over 200 films from around the globe. Filmmakers and celebrities attend many of the screenings and events during the festival. Parties and gatherings at area "hot spots", on board yachts, and on the beach will provide audiences an opportunity to hob knob with film talent and other movie buffs. At the heart of FLIFF are the films and the artists that create them. During the festival, films are divided into the following sidebars: Competition Films, World Films, American Independents, Documentaries, Shorts, Sunshine Celluloid, Children's Films, Gay and Lesbian Films, and Retrospective and Tribute Films. For more information, visit www.fliff.com.
About Warren Henry Auto Group
Celebrating their 36th anniversary, Warren Henry Auto Group is headquartered in Miami, Florida with eight South and Central Florida dealerships including Warren Henry Infiniti, Warren Henry Volvo, Warren Henry Jaguar, Warren Henry Pre-Owned, Land Rover North Dade, Land Rover South Dade, Lamborghini Palm Beach, Fisker Miami, Ocala Subaru and Ocala Volvo. Warren Henry's corporate office is located at 20800 NW 2nd Avenue (Hwy 441) in Miami. For more information, call 888-856-3113 or visit www.warrenhenryauto.com.
About The Arthur E. Benjamin Foundation
The Arthur E. Benjamin Foundation is a 501(c)(3), tax-exempt organization created to assist the building and growth of other foundations through leadership, management, marketing, and public relations. Established by Delray Beach business leader and philanthropist Arthur E. Benjamin, the Foundation's core focus is to make a meaningful difference in the lives of children and animals, support young adults through educational efforts, and aid women in breast cancer recovery. For more information, please visit www.arthurebenjamin.com.
About Trinity Diversified Film Fund
Trinity Diversified Film Fund is a Texas based film finance fund providing capitol for prints and advertising.
The advisors strategically place investments in independent feature films through a diversified film fund format with the objective of earning maximum funds while protecting investor's capital.
About Entre Nous
Entre Nous is a committee of FLIFF comprised of professional women who produce the Opening Night Gala, the Silent Auction and other fundraisers throughout the year. Entre Nous was founded in 1993 by Gale Butler (VP of AutoNation) to support FLIFF.