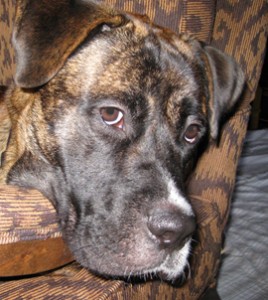 DALLAS, TX (December 17, 2009) – Arthur Benjamin, president and founder of American Dog Rescue, while attending a fundraiser in support of "Operation Kindness" tonight at Sambucca restaurant, announced outstanding response to its first national campaign. The campaign is focused on the story of Bruiser, a 100 lb Mastiff/Boxer mix, who was hit by a car and left for dead along a Utah roadside. American Dog's Rescue-Vet Support Program paid for an operation including the placing of a plate and four screws in Bruiser's left rear leg. Bruiser was cared for by an associate director of American Dog Rescue at her home for over five weeks, affording the animal a full recovery.
Bruiser was placed by ADR''s local partner shelter, Salt Lake County Animal Services, in his forever home late last week. ""Bruiser couldn't have made it in the shelter during recovery"," said Shawnee Larrabee, Salt Lake County Executive Director. ""He needed lots of attention and affection to overcome the poor treatment of his life prior to this experience. American Dog Rescue provided the perfect temporary home and provided care until he could return to us for his adoption." The "adoptive parents" are perfect for him."
Coverage of the Bruiser's story appeared during the noon hour and throughout the day on Salt Lake City's Channel 2 News Adoptathon/Fundraiser. A challenge grant from American Dog Rescue for The Utah Humane Society, the featured animal welfare organization during this effort (another local ADR partner) led to over ,000 being raised to care for abused/abandoned animals of the state. This total, amazing in a struggling economy, more than doubled last year's Adoptathon's results. Most importantly, Bruiser is now fully recovered and living with a loving family.
Benjamin closed the event by telling "The Starfish Story," "clearly we all make the difference we make in life one starfish at a time." "Persistence," he stated, "is the solution to overwhelming problems of all kinds." Benjamin ended with a toast to American Dog Rescue's mission, "No Healthy Dog Without A Home!"